Our MMA Training Programs
Schedule a Private MMA Training Lesson Today in Charlotte, NC
Schedule a Training Session Today!
LET'S GO – GET IN SHAPE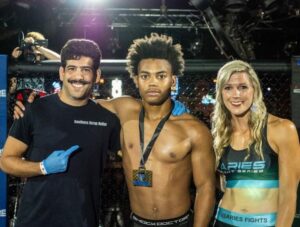 I have been training martial arts all my life, turning my passion into a lifestyle that I would love to share with people. One of the main driving forces behind my personal training is the experiences overcoming personal struggles of my own that had to do with achieving my fitness goals and improving my self-image of myself to boost confidence as an individual that I've gone through over the years.
From being an overweight kid to losing over 30 pounds in less than a year, all while overcoming bullying all through middle school and some of the high school, I strive to help others do the same for themselves and achieve their goals in fitness, personal image, and confidence, and health.


I believe exercise and cleaning eating are the building blocks of physical and mental health, and through my extensive knowledge and years of experience, I can help you find success within your health and fitness goals.


When it comes to my experience in exercise, I have trained all over the world, in 3 different continents: Muay Thai in Thailand, Brazilian jiu-jitsu in Brazil, and MMA at one of the best academies in the world, Tristar, in Montreal. In addition to that, I am also still a current competitor in MMA, Kickboxing, and jiu-jitsu.


On the nutritional side of things, I pride myself on my up to date knowledge of nutrition and dieting. In addition to being NASM (national academy of sports medicine) certified, I've also been able to live a healthy, nutritious lifestyle through the years of knowledge and experience I've gained in meal prep and learning how to cook my own healthy meals from being taught since I was a child by my mother.


I have had personal training experience as well working for the UFC gym franchise; coaching kids and 1 on 1 personal training with adults and kids.
Let's Talk About Your MMA Training!